Missive has appointed Giles Peddy as our new CEO. He will officially join the team in December, working alongside our co-founders Nicola and Emma on the Missive Board.
This news coincides with Missive's sixth birthday and follows a successful period of growth. We have thrived under lockdown, winning six new clients including RTGS, 5G-ENCODE and Airband.
As CEO, Giles Peddy will lead Missive through the next chapter of growth, championing our integrated comms services that consistently lead to tangible business impact for our clients. In short, we're incredibly excited about him joining us!
This is what Giles had to say: 
"Having watched the growth and success of Missive, the opportunity to join Nicola and Emma to take it to the next level was too good to turn down. I am really excited to be joining an entrepreneurial and ambitious consultancy with great clients, a strong team and an outstanding culture.
"In a digital world, many agencies remain analogue. With its integrated approach to communications, Missive is primed to deliver a tangible business impact and help define the future for technology companies."
Before joining Missive, Giles Peddy was Senior Vice President EMEA at LEWIS, where he was responsible for the strategic and operational development of the region, and was the client lead for many major international brands. He brings two decades of experience to Missive having also worked at Hotwire and Golin. 
Missive has 19 employees, which include Louisa Merrett, Hannah Devoy and Gemma Dunn in the Senior Team. Julia Lavin, Senior Account Director and one of our longest standing employees, was named Young Communicator of the Year at the PRCA National Awards in 2019. 
Our new senior hire comes hot off the heals of Missive being named PRCA's Best Small Consultancy for 2020. This year we were also finalists for Best (overall) Agency in the CorpComms 'CovidComms Awards' thanks to our commercial resilience, client growth and defining staff initiatives.
Giles' appointment also follows the return of co-founder, Emma Ross, to the business earlier this year. Emma was diagnosed with primary bone cancer in August 2019, leaving Nicola Koronka to lead from the front in her temporary absence. Emma and Nicola will now move into the roles of Chief People Officer and Chief Client Officer respectively. 
This is what Nicola had to say about welcoming Giles: 
"Missive has proven itself to deliver outstanding results for its clients in highly specialised tech sectors and six years of successive growth is testament to that. In Giles, we have found an outstanding leader with the experience to strengthen our team from the top and take Missive to the next level. We are hugely excited to benefit from his expertise and fresh, disruptive thinking."
Emma added: 
"I am incredibly proud about what Missive has achieved in a few short years, despite unforeseen challenges. Missive makes a positive impact every day to the lives of its clients and staff and it has even more to offer in the future. With the addition of Giles to our talented team, our ambitions to help redefine the industry are without limit."
This has been a hugely defining and successful 12 months for Missive and we are proud beyond words. We are also hugely grateful to our clients and friends for their ongoing support of Missive. Without you, we are nothing!
We can't wait to see what the next chapter will bring with Giles joining us at the helm and taking us to new heights. So let's do this!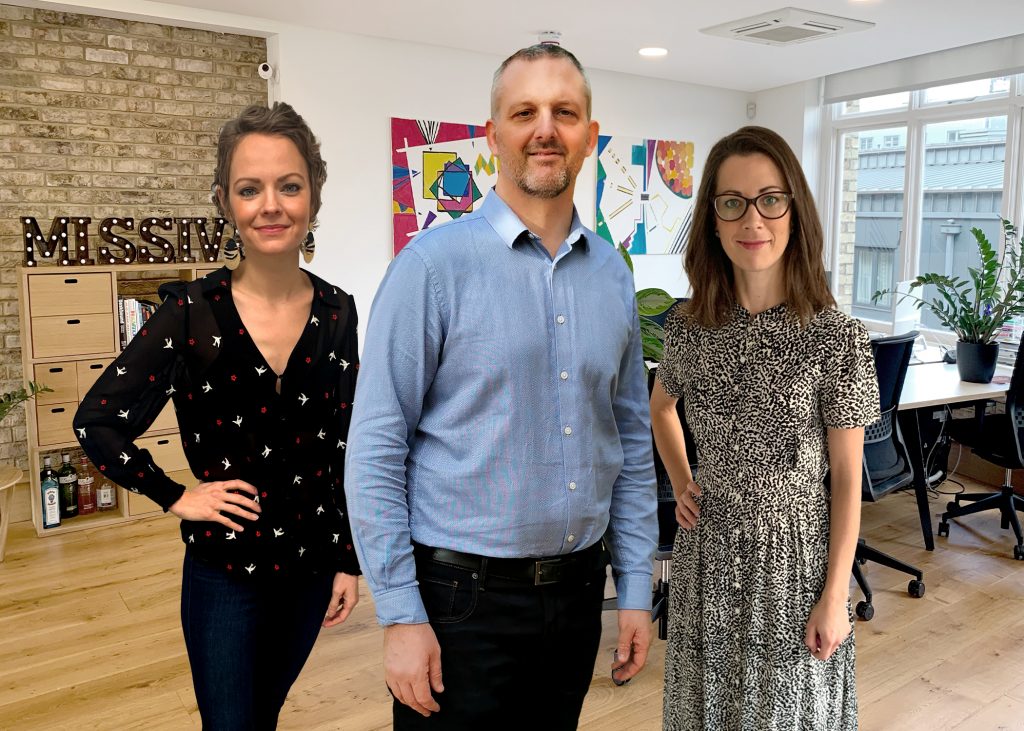 CEO Giles Peddy joins Missive Co-Founders, Emma Ross (L) and Nicola Koronka (R)
Missive is a Top 150 PR Agency as listed by PRWeek. Missive was named Workplace Champion of the Year by PRCA in 2021 and Best Consultancy by the PRCA in both 2017 and 2020.
If you are a SpaceTech business looking for communications support, contact a member of our team.