On Saturday 11th September, members and supporters of the Missive team completed the Thames Bridge Trek for Macmillan Cancer Support.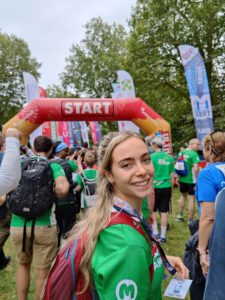 Clare gives a big smile as we start our 25km trek.
We joined over 4500 trekkers taking part in ultra challenges across the weekend to walk 25km through London. The route took us over 16 historical bridges between Putney and Southwark, through Parliament Square and down a very busy Southbank.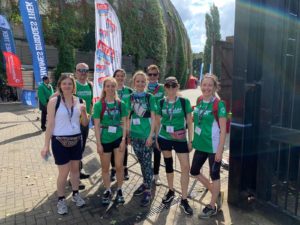 Missive Macmillan Trekkers stop for lunch at The Oval, Cricket Ground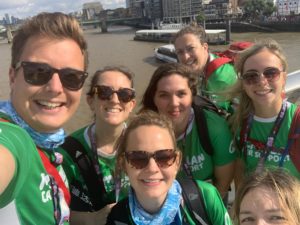 Missive Macmillan Trekkers cross Millennium Bridge
Together, we walked a total of 200km, took over 270,000 steps and raised over £3,000. A big thank you to those who have donated so generously.
The Thames Bridge Trek is the latest in Missive's fundraising activities for Macmillan Cancer Support, a charity very close to our hearts. In 2019 Missive's co-founder, Emma Ross, was diagnosed with parosteal osteosarcoma, a rare form of bone cancer. For a team as close as Missive, this was very difficult news.
What unifies our team, however, is our determination to turn setbacks into successes. As Emma embarked on her road to recovery, the rest of the Missive team pledged to stand behind her and raise £20,000 for Macmillan Cancer Support.
The day of the walk happened to coincide exactly with the two year anniversary of Emma's operation to remove the osteosarcoma – a landmark milestone of being cancer free. We celebrated the poignant moment as we set off from the start line.
We are so proud of Emma and we will continue to fundraise for Macmillan which has supported her throughout her cancer journey.
If you would like to help us reach our £20,000 target, please visit our JustGiving page. Thank you!
Missive is a Top 150 PR Agency as listed by PRWeek. Missive was named Workplace Champion of the Year by PRCA in 2021 and Best Consultancy by the PRCA in both 2017 and 2020.