The last decade has seen sales activation (demand generation & lead generation) being the predominant area of marketing spend.
Whilst these tactics may yield short-term results, demand generation marketing decays quickly with little long-term effectiveness.
On the other hand, despite a plethora of research demonstrating mid-to-long term success, brand building has been underinvested. The seminal study by Binet & Field 2013 illustrates that investing in brand-building activities is proven to demonstrate value over time and positively impact future sales.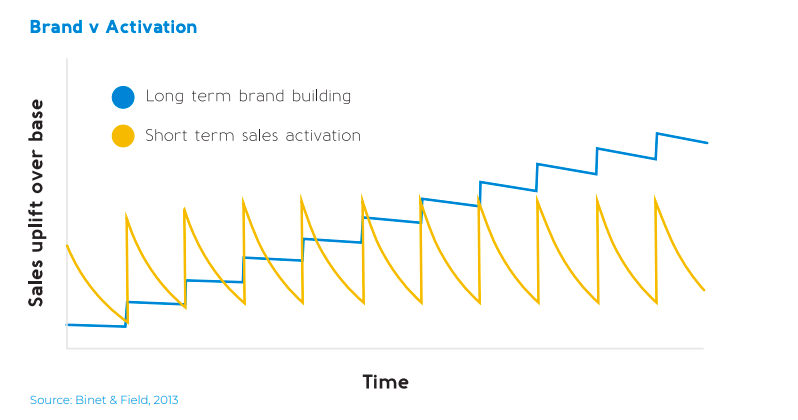 Binet & Field 2013 – Marketing budgets: Brand V Activation
Marketing budgets: Brand V demand
Marketers will argue that their task is to support sales, and we agree. Yet, with demand generation taking upwards of 75% of the budget, this is not balanced. We would argue that sales activation does not create demand, just simply helps secure what is there. While brand building generates demand for products and services in the short and long term.
Marketers will highlight the effectiveness of the click through rate (CTR) of the ads. Yet, the prospect was looking for you anyway, and as long as the SEO was performing would have found your website organically. This is exactly what AirBnB found during the pandemic. As reported by Campaign magazine in March 2021, AirBnB has cut their marketing budget by $500m –
mainly performance marketing spend – and are refocusing investment on brand and PR.
Of course, how data is presented also influences spend decisions. Demand generation marketers come armed with performance data, while brand marketers talk about awareness, advocacy and impact. It is natural that CFOs will back the marketer who offers more leads but we urge CFOs to pause and reflect. Chasing the short term has merits, but it should not be at the expense of
long-term brand building, which we have seen drives greater sales uplift opportunities.
Balancing budgets for growth
Researchers Binet & Field postulate that B2Bbrands should have a 50:50 model in terms of marketing investment between sales activation and brand building. Today, the industry disagrees, but it's time to change. It's time marketers look beyond the short-term and don't follow the consensus. Don't zig like everyone else. It's time to zag.
If you have enjoyed reading this post, we recommend checking out Missive's The Great Brand Battle – Rebalancing demand generation and brand building for growth in the Next Normal.
The Great Brand Battle is the second installment in Missive's Great' series. Over the past 12 months, Missive has tracked the evolution of the marketing landscape. The full series including The Great Reset, The Great Brand Battle, and The Great Attention Divide is available to download here.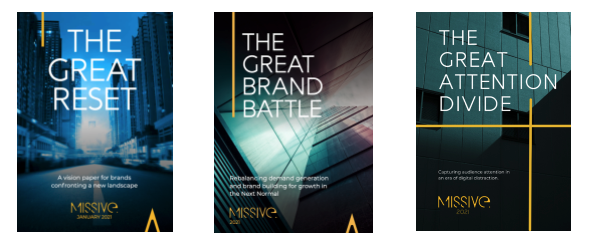 The 'Great' series, from Missive
Missive is a Top 150 PR Agency as listed by PRWeek. Missive was named Workplace Champion of the Year by PRCA in 2021 and Best Consultancy by the PRCA in both 2017 and 2020. If you would like to discuss marketing strategy and communications, contact our team.