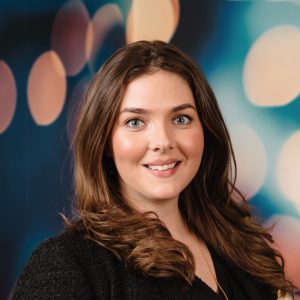 Meet our award-winning tech PR team: Alice Hartwell, Operations Director.
Name Alice Hartwell Tenure May 2017

Tell us about your background.
I joined Missive from Cision where I was Product Marketing Manager, EMEA, and before that I spent over five years as Talent and Professional Development Director at PRCA.
I've been around the communications industry for almost 10 years now and have loved every second. I've spent a lot of time working with PR and Communications teams of all sizes; in house and agency, private and public sector, UK and Global.
Now, at Missive, I have the chance to put all my learning into practice and support the company to exceed ambitious targets for efficiency, hiring and new business.

What attracted you to join Missive?
It was the dream combination of role and team.
Having a full-time Operations Director join a small team so early on was a bold move for Emma and Nicola, but when I saw the job description I knew exactly how I could make an impact. It was an opportunity to take a senior role supporting a rapidly growing business in one of the UK's fastest evolving industries. I simply couldn't resist.
And when I met the team for drinks before my start date, I knew that I had made the best decision. There's a fascination and love of all things tech which is infectious. It's not a 9-5 interest, it's a genuine passion which is really exciting to be around and great to learn from. We even have some budding cryptocurrency traders in our midst!

What sets Missive apart from the many other PR consultancies out there?
It's the work we do and the way we do it that makes us different.
Our communications programmes are driven by a desire to deliver business impact. We believe that PR should and can deliver real, tangible, measurable and significant results. Adding to that, our work and client service are both grounded in quality. It's these ingredients which led us to win PRCA Small Consultancy of the Year 2017.
If it's not smart or exceptional, it's not Missive.

As Operations Director of Missive, you're constantly juggling many different priorities. What's the secret to staying so well organised?
Lists, lists and more lists! I've constantly got a list on the go. There are some great apps to help me manage my lists more efficiently and my current favourite is Wunderlist.
Another trick is using the office calendar to plan my day. I've got a pretty good idea as to how long certain tasks will take me so I go through and block chunks of time out in my diary. It gives me greater visibility on what can be achieved that day or week, as well as keeping me accountable for my time.

If you could describe working at Missive in three words, what would they be?
One of my favourite questions! I often get asked this when interviewing prospective new team members.
Exciting. Whether it's brainstorming for a new business pitch, networking with fellow PRCA members or facilitating an office move, no two days are the same.
Empowering. Since joining Missive, I've been encouraged to implement new processes. For someone who loves being organised, it's incredibly rewarding to see my problem-solving efforts make the team more efficient and the business more profitable.
Flexible. Work / Life balance is talked about a lot in our industry but Missive is one of the only businesses that have really nailed it. Our "tell, don't ask" policy means we're treated like the responsible adults that we are. If you need to collect your child from school at 4pm, great. If you have to work from home on Tuesday, do it. If you're leaving early for a haircut, see you later!
As a team, we pull together; our work is done to the highest standards and there's scope for having a life as well.

What's your guilty pleasure?
Euro pop and bourbon biscuits. I've never admitted to those before.

What do you hope Father Christmas will bring you?
I've got a couple of books on my Christmas list. Lincoln in the Bardo by George Saunders and more work related, True North by Bill George.
I'm also hoping for a relaxing Christmas so I have time to actually read them.

When not in the office, can be found…
Walking around Richmond park or heading out of London for some much-needed fresh air.
Learn more about our award-winning technology PR and communications team here.