Missive CEO, Giles Peddy, was interviewed by PRmoment's Ben Smith in the latest edition of the PRmoment Podcast.
In the podcast, Giles shares findings from our latest vision paper, The Great Brand Battle – balancing brand and demand generation.

Listen to the PRmoment podcast
The Great Brand Battle sets out strategies to find that balance between brand building and demand generation. Ensuring that marketing budget is supporting the short-term sales requirements, and long-term brand building benefits, including:
Short-term sales
Long-term sales
Pricing power
Diversification
Talent Acquisition
Door opening
Whether you are fast growing brand or a large enterprise looking to reposition or pivot, we explore reasons to not just focus on the short-term MQL/SQL numbers, but also the strategic value of brand building.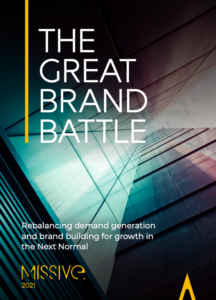 Download the vision paper
Missive is a Top 150 PR Agency as listed by PRWeek. Missive was named Workplace Champion of the Year by PRCA in 2021 and Best Consultancy by the PRCA in both 2017 and 2020.
If you are seeking communications support, please get in touch.