The Great Attention Divide – capturing audience attention in an era of digital distraction.
Now available to download
The Great Attention Divide provides useful tools to overcome the attention divide through better, smarter and better optimised thought leadership. Essential reading for technology marketers focusing on how to capture hard-earned attention in this increasingly noisy era of digital distraction.
The last 18 months have seen marketers react to the pandemic with a tsunami of poor quality content. Decision makers have been turned off.
In 2022, marketers must reset their content marketing strategies to capture the attention of their audiences.
Download today.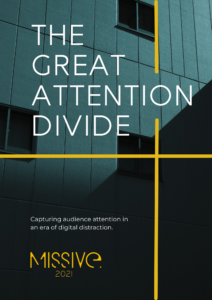 The Great Attention Divide.
Missed any of the 'Great' series?
Over the past 12 months, Missive's 'Great' series has tracked the evolution of the marketing landscape.
We have highlighted the importance of balancing marketing budgets for growth in the next normal and shared how to develop impactful thought leadership to cut through the noise.
The full series including The Great Reset and The Great Brand Battle is now available to download.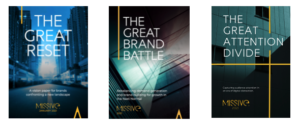 Download Missive's 'Great' series today
Missive is a Top 150 PR Agency as listed by PRWeek. Missive was named Workplace Champion of the Year by PRCA in 2021 and Best Consultancy by the PRCA in both 2017 and 2020.
If you are seeking marketing communications support, please get in touch.