We believe that over the last decade, businesses have over-indexed their marketing investment on demand generation activities at the expense of brand building. The pandemic's requirement for clear communication and trust in brands, as well as fundamental changes in technology and digital reshaping marketing, requires a rebalance in spend. We encourage marketers to press the reset button on their marketing strategy!
The story today
In 2020, whilst many marketers rapidly pivoted to digital, many remained fixated on sales activation and demand generation as the priority for driving their marketing. As we embark on a journey out of the pandemic, and we see growth returning across industries. A reset in our marketing and communication must take place.
An old marketing adage is "when our competitors zig, we zag". But very few brands actually do. Instead they zig with everyone else, monitoring competitor activity and responding to rival actions using the same, repetitive techniques. That is not zagging, that is following. History tells us that successful B2B businesses rarely follow the herd. They use a growth mindset to stand out, not consensus.
Time for a reset?
Marketers must reevaluate their spend to be more equal. In 2019, pre-pandemic, Binet & Field launched a new B2B study showing the value of brand building and sales activation in a more equal share of spend (See graphic).
Interestingly, it mirrored closely to their earlier B2C study. Their research found optimum mixes by category, brand maturity, pricing protection, and once activation had hit a ceiling.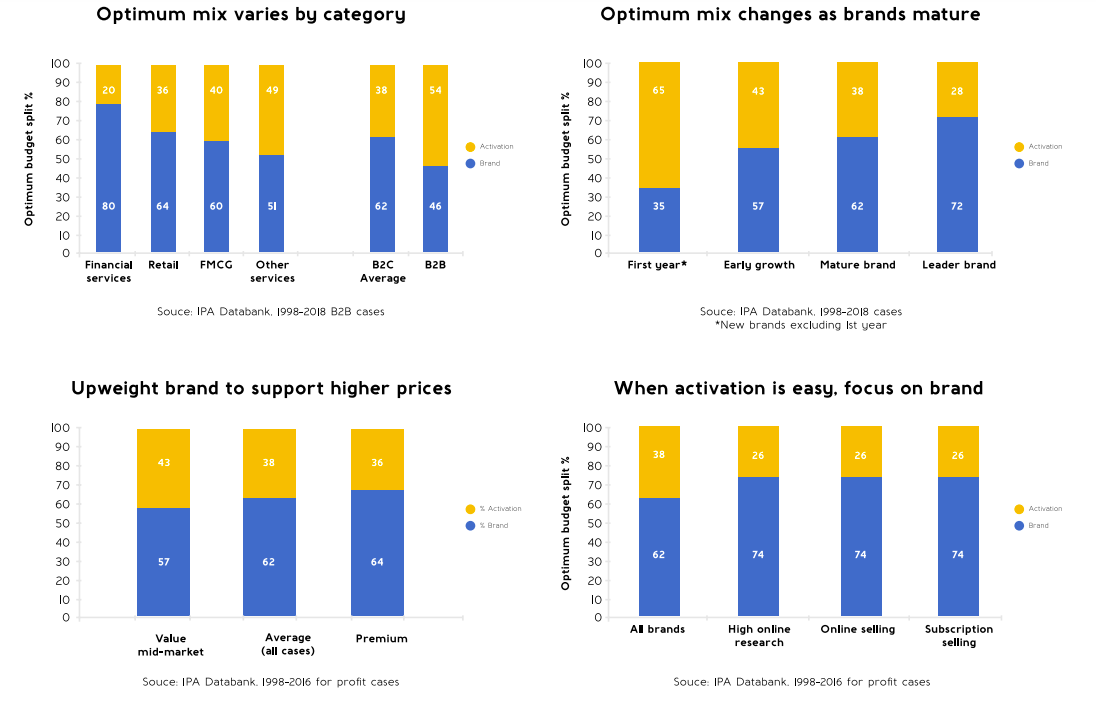 Balancing brand v activation marketing. Source Binet & Field, IPA, LinkedIn
At Missive, we contend that a more contrarian mindset will set brands apart moving forward. There is no strategic advantage by doing what everyone else is doing. Of course, if a differing viewpoint is successful today, others will follow and it will become the consensus. But with a growth mindset, marketers will be emboldened to continue to strive for the next opportunity.
If you have enjoyed reading this post, we recommend checking out Missive's The Great Brand Battle – Rebalancing demand generation and brand building for growth in the Next Normal.
The Great Brand Battle is the second installment in Missive's Great' series. Over the past 12 months, Missive has tracked the evolution of the marketing landscape. The full series including The Great Reset, The Great Brand Battle, and The Great Attention Divide is available to download here.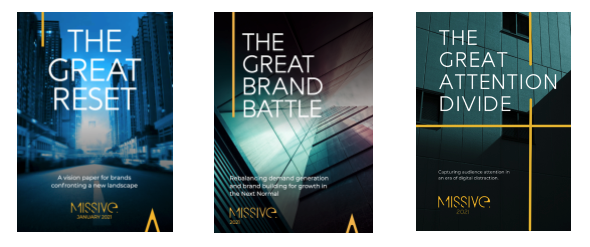 The 'Great' series, from Missive
Missive is a Top 150 PR Agency as listed by PRWeek. Missive was named Workplace Champion of the Year by PRCA in 2021 and Best Consultancy by the PRCA in both 2017 and 2020. If you would like to discuss marketing strategy and communications, contact our team.