During Mental Health Awareness Week, the Missive team took a self care day in the office.
Rachel Butcher, Head of Nutrition at Natural Fitness Food and Third Space joined us in the office to discuss eating for optimum energy and stress management. Throughout the day we were fulled by a nutritious lunch and snacks, and made sure to get some much needed movement in as well. As a compassionately-led consultancy, we are committed to promoting health and wellbeing for all our team and we do this by running quarterly self care days.
Missive is hiring! If you'd like to join us on our next self care day, visit our careers page or drop HR an email.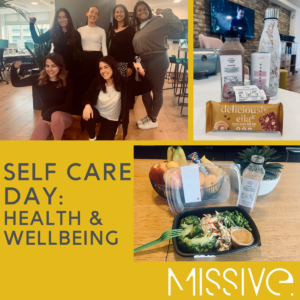 The latest self care day at Missive HQ
Missive is an independent communications & PR consultancy that specialises in technology. We work with B2B and B2C brands focused on digital transformation across multiple industry sectors including, enterprise tech, FinTech, EdTech, AdTech, HealthTech, Telecoms and SpaceTech. We are headquartered in London, with a global reach and mindset. Everyone at Missive shares a passion for delivering communications and PR that create impact.
Missive is a Top 150 PR Agency as listed by PRWeek. Missive was named Workplace Champion of the Year by PRCA in 2021 and Best Consultancy by the PRCA in both 2017 and 2020. If you would like to discuss marketing strategy and communications, contact our team.