The Great Brand Battle webinar will provide advice, guidance, and recommendations for the resetting of marketing budgets to meet the new normal.
Marketing and communication leaders need to wake up. The last decade has seen spend overly weighted to chasing short-term sales with no residual value over the mid-to-long term. They are ignoring the strategic value and greater sales uplift that brand building affords.
In The Great Brand Battle, we present ideas and advice to marketeers seeking to change. We advocate for a more 50:50 balance. We are seeing this shift taking place already with the likes of AirBnB.
Whether you are fast growing brand or a large enterprise looking to reposition or pivot, this webinar will explore reasons to not just focus on the short-term MQL/SQL numbers, but also the strategic value of brand building.
Join us and a panel of industry experts on 16th June, 10am [BST] as we discuss the marketing and communication landscape, and how if brands are to standout out, doing what everyone else is doing is not a competitive advantage.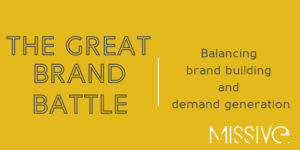 Click to sign up
Missive is a Top 150 PR Agency as listed by PRWeek. Missive was named Workplace Champion of the Year by PRCA in 2021 and Best Consultancy by the PRCA in both 2017 and 2020.
If you are seeking communications support, please get in touch.