Available to download. The Missive, The Great Reset – A vision paper for brands confronting a new landscape.
Missive invited experts from different backgrounds spanning corporate affairs, public affairs, media and digital analytics, marketing, economists, and measurement to share their viewpoints on what lies ahead. The Great Reset is a must read for marketing communications professionals as we prepare for a new era and look to develop new ideas, models and approaches.
We hope that some of the ideas in the paper spark your imagination.
Don't miss the launch webinar. 
To mark the launch of The Great Reset, Missive is hosting a webinar on February 17th at 4pm (GMT). Join us as we speak to four Great Reset authors and explore key elements of the paper.
Download The Great Reset and sign up to the webinar here.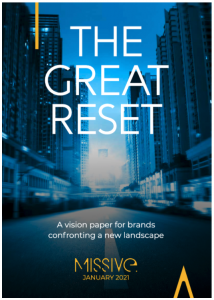 Coming soon: The Great Reset
Missive is a Top 150 PR Agency as listed by PRWeek. Missive was named Best Place to Work by PRWeek in 2019 and Best Small Consultancy by the PRCA in both 2017 and 2020.
If you are seeking communications support, please get in touch.