As the dust settles on one of the world's biggest fintech events, we've spent a weekend digesting some of the biggest talking points and what they mean for comms. Here's our UK fintech PR wrap:
1. Keeping the UK at the cutting edge of technology
The most anticipated session of the week was Rishi Sunak's opening keynote, laying out plans to ensure Britain remains at the cutting edge of fintech. "If we can capture the momentum, the excitement and the extraordinary potential of the technological revolution that [fintechs] are leading," Sunak said, "we can make real our vision of this country as the pre-eminent financial centre in the world."
The Chancellor unveiled numerous proposals to support fintech, including regulatory support and a new taskforce to lead the country's work on a central bank digital currency.
This announcement makes for exciting times for UK fintechs, right from unicorns to start-ups. With the market likely to continue to boom, PR and communications will play an integral role in helping brands to cut through the noise and achieve their ambitions, whether it's attracting investment or preparing to IPO.
2. Green must go further: fintech PR & ESG
The Government's midweek announcement of bold new climate change commitments trickled into conversations on the penultimate day. In a panel titled "Going Green: The Pivotal Role of Finance", speakers highlighted fintech's contribution to fighting climate change and the role regulators will play in encouraging environmentally sustainable business practices.
Francesca Hopwood Road, Head of RegTech and Advanced Analytics at the FCA's Innovation division, pinpointed three key focus areas for fintechs: transparency, trust and tools.
Effective communications is vital to transparency and trust. Fintechs and financial services with sharp, jargon-free messaging that conveys their ESG credentials are on the front foot as environmental, social and governance strategies grow in importance to all stakeholders, from investors and regulators through to customers.
3. Farewell, virtual conferences
With lockdown restrictions soon to ease in the UK, the doors to conference centres will soon be reopened. UK Fintech Week marks the last of the big fintech virtual events.
Virtual conferences have been a much bigger success than anybody could have expected. The format has offered a convenient and cost-effective way for businesses to engage with their target audiences. Research suggests that 70% of buyers have been swayed to make purchase decisions after virtual events. For these reasons, we expect them to become a mainstay of fintech event calendars for the coming years.
Despite this, there's nothing quite like being immersed in face-to-face conversations and discussing the future of the sector. With the recent news that Fintech Week London is to be a hybrid of face-to-face and online in July, all eyes will be on the conference to see what the future of events looks like.
If you enjoyed our UK Fintech PR wrap, check out our video series, Fintech Shorts from Missive. Watch our video mini series produced in support of UK Fintech Week 2021 via LinkedIn.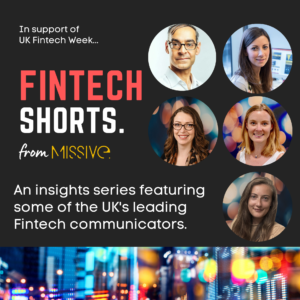 Watch Fintech Shorts from Missive
If you're a fintech looking to highlight your green credentials or maximise your leads from events, we can help – contact the team here.